Empire State College
Photos courtesy of the Saratoga Associates.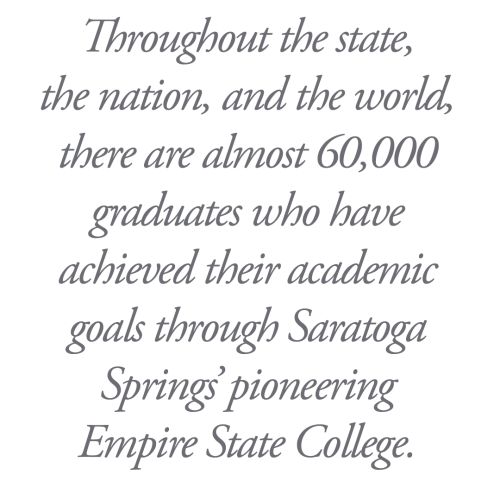 In 1971, Saratoga Springs became the home of a second institution of higher learning. It has no campus, dormitories or resident students, so it is easy for passers-by to overlook. Headquartered in four handsome buildings near the beginning of Union Avenue, Empire State College has a large student body, a statewide mission, and an international reputation. This little-known jewel of the city's intellectual life came to Saratoga Springs at a time when space was readily available for such a daring experiment.
The late 1960s were a time of unprecedented turmoil in American higher education – and of great creativity.
In 1970, Chancellor Ernest L. Boyer of the State University of New York envisioned a new kind of college based on the student initiative in learning. He saw that it "was precisely the time to start such a new college – a non-campus institution – that would not depend on the rigidity of the calendar or class schedule but on the creativity of the students, and faculty serving not as academic managers, but as mentors." Rather than try to reform an entrenched system, he sought to build a new institution within it.
This bold experiment turned everything around. It was nothing less than an attempt to reconstruct how learning takes place. It would respect process over structure; allow the student to learn at her or his own pace; place the responsibility for learning mostly on the student; and design individualized programs of study for each of them.
Through Joseph Palamountain, the president of Skidmore College, Boyer found that there were suitable buildings ready for use in Saratoga Springs. Skidmore was in the process of moving to its new campus off North Broadway and was mothballing buildings for future sale. Palamountain was able to offer buildings for lease as well as the options of lodging for visiting professors and guests, staff use of Skidmore dining services, and faculty access to Skidmore's library. In July 1971, Empire State College leased its new home.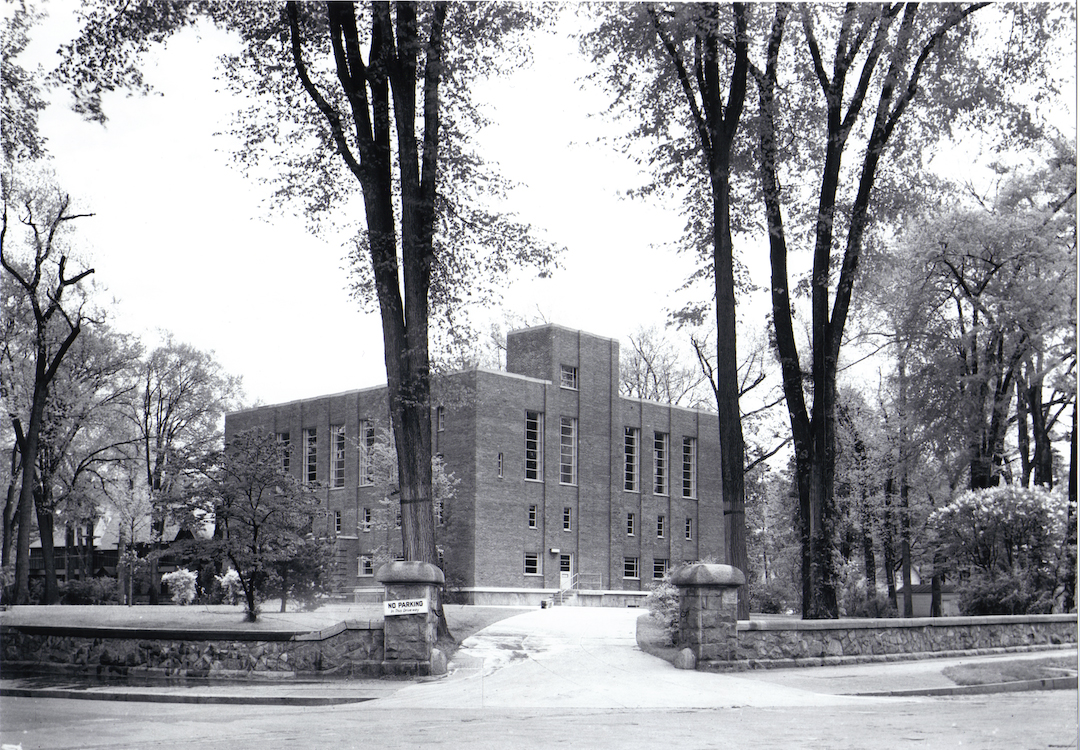 The fledgling college also required a charismatic leader, and it found one in James W. "Jim" Hall. Hall was only 33 years old and had limited traditional administrative experience, but he was creative, well-organized and visionary. As SUNY's Assistant Vice President for Policy and Planning, he was a part of the initial planning for Empire State.
He moved quickly to make Empire State College a statewide institution. In the first year, the college received 7,000 inquiries. Soon hundreds were enrolled. The college was building a wide network of facilities that would allow work to take place oneon- one with students in virtually every part of the state. It established regional learning centers, each of which served smaller "satellites." The college's reach was comprehensive, placing facilities within reasonable commuting distance of every state resident.
In August 1977, the so-called "old campus" of Skidmore College was put on the market. Empire State College purchased its headquarters building, as well as 28 Union Avenue.
By 1975, the college added Extended Programs to its offerings and this ultimately offered opportunities for development of computer technology in learning.
The college took an innovative approach to international education, sending faculty teams to teach foreign students in their home countries. The greatest expansion was in services to special constituencies, as ESC developed outreach programs for prisons, labor unions, human service agencies, corporations, and government agencies, meeting specific educational needs. It added graduate-level offerings for the first time in 1982.
Hall oversaw the college for its first 26 years. Physical expansion began with the 1987 renovation of an old Skidmore science building at 1 Union Avenue, and was again underway at the close of Hall's tenure with the construction of the Solomon Center for Distance Learning and Technology, named for the late congressman, Gerald B.H. Solomon, who had helped secure federal funding for the structure. Under Hall's successor, President Joseph B. Moore, Empire State renovated a former Grand Union supermarket on West Avenue to serve as its distribution center and other offices, and broke ground for a new academic office building at 2 Union Avenue. The old mentor center at 28 Union Avenue, fully restored, became Alumni House, housing the Office of External Affairs. In the spring of 2008, the college broke ground for a new 50,000-square-foot building on West Avenue for its burgeoning Center for Distance Learning, opening it 18 months later.
Today Empire State College holds a prominent position in New York higher education. Making use of both its original model of face-to-face student-mentor interaction and its technologically sophisticated distance learning model, it facilitates the learning of nearly 19,000 students at 35 locations around the state of New York.
Throughout the state, the nation, and the world, there are overt 60,000 graduates who have achieved their academic goals through Saratoga Springs' pioneering Empire State College.