The Saratoga Economic
Development Corporation
Photo courtesy of the SEDC.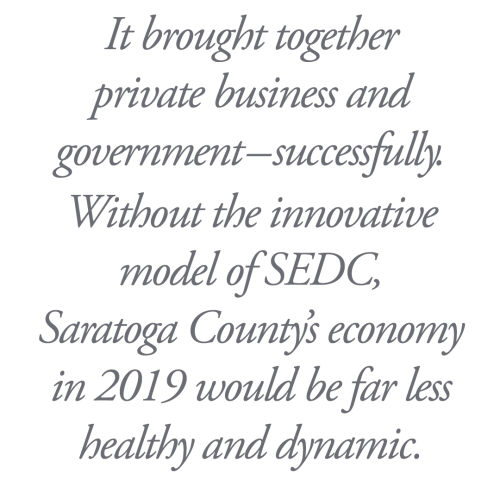 As the 1970s dawned, Saratoga Springs was showing exciting signs of rebirth after half a century of decline. The new Skidmore College campus, the performing arts center, the historic preservation movement and, especially, a downtown revitalization campaign ("The Plan of Action") promised a bright future.
The "Plan" grew out of the work of the half-century-old Greater Saratoga Chamber of Commerce. Over the years its efforts had centered narrowly on coordinating events and promotion for tourism. That was changing rapidly in the early 1970s under new leadership as it broadened its scope to include economic development. But with an otherwise full program and a small staff, there was a limit to what it could take on.
There was a challenge ahead, more daunting than the shopping-mall competition facing Broadway stores that had spurred the Plan of Action. Saratoga County was losing its manufacturing base. While tourists were its bread and butter, well-paying factory jobs had been plenty in Schuylerville, Mechanicville, Waterford, South Glens Falls, Corinth— even in resort-oriented Saratoga Springs. In 1976, manufacturing provided the county with one-third of its jobs and fully one-half of its payroll. But like everywhere in the Northeast, the factories were moving South or closing. During the 1960s alone 12,000 to 14,000 manufacturing jobs were lost. As they disappeared, unemployment rolls grew. This was a challenge not usually addressed by chambers of commerce in that era.
The solution grew out of a November 1977 lunch at the Hayner House in Ballston Spa. Bob Schock, the chamber chairman, and Joe Dalton, its president, met to discuss the county's economic future with Paul Brown, a Ballston Spa attorney who was about to become chair of the county board of supervisors. They proposed an entirely new agency, the Saratoga Economic Development Corporation (SEDC). It was to be independent of the chamber but work closely with it; most importantly, it would be independent of government so that its beneficiaries would not be indebted to politicians. "That was the first major hurdle, and we got over it," remembers Dalton. The SEDC would provide financial planning, site analysis, tax planning, and employment training, all to smooth the path for potential manufacturers interested in locating in the county. It would even have the ability to buy land and build and equip a building.
Brown was elected in January, and immediately presented the plan to the county board, which demonstrated a willingness to trust the private sector, providing $40,000 in seed money. Schock raised an additional $12,474 from business people. On March 23, 1978 the SEDC was incorporated, a "private sector, non-profit consulting firm that works to create jobs in Saratoga County, New York."
It was understood that it had three years to prove its value—or dissolve. A jump start was essential. Frank Quinn of Saratoga Springs met a dynamic young man at a seminar in Oklahoma and the new board invited him to apply. "We interviewed him at 10 o'clock in the morning," said Schock, "and at 1 o'clock in the afternoon we had hired 22-year-old Jeff Randol as executive director of the SEDC."
Randol and Dalton went to work immediately. They made the rounds to sell the SEDC program along with a new state tax-abatement program that reduced taxes for a number of years in return for job creation. Best of all, SEDC offered to help companies design advantageous financial services packages, something that other communities were not doing at the time.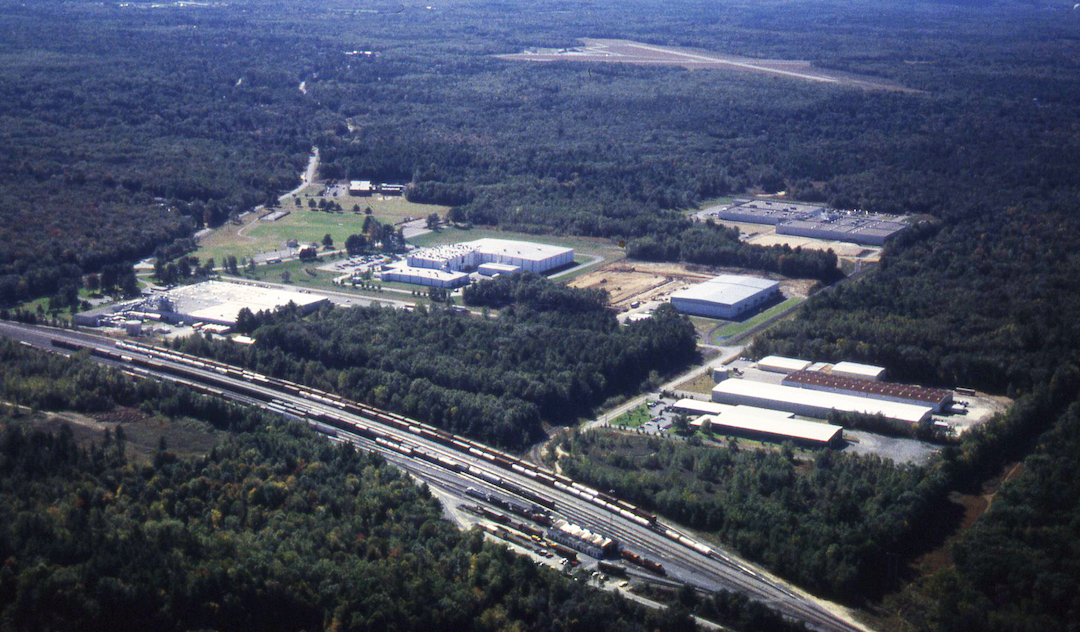 In that first year, four new companies made a commitment to locate in Saratoga County, bringing 70 new jobs. But that was just the beginning.
Executives from Ball Corporation visited Saratoga County, but Randol didn't know about their visit until they had left. In two days Randol assembled a package of information and shipped it to Ball where it was waiting for the executives when they returned to their desks. Securing Ball's commitment required land, railroad tracks, roads and sewers, as well as financing, but it was done. On October 16, 1981 the first cans rolled off the line. SEDC had landed 250 to 300 jobs with a $6 million payroll. Nationwide visibility followed: in Newsweek magazine, Ball's CEO praised SEDC.
The next big success was Quad/Graphics, which announced plans in 1983 to bring 1,000 jobs to the county. By January 1985 the presses were rolling, soon to print Time magazine and later People as well.
As early as 1982 Randol had speculated that Canadian and European businesses and technology firms offered great opportunities. Marketing efforts abroad had already begun in 1981. Then, in 1985, SEDC began negotiating with a state agency for the purchase of acreage in Malta for a high-tech industrial park.
The project stalled due to the parcel's Superfund status, but SEDC went ahead with the purchase of 100 acres in Halfmoon for another industrial park.
In 1987 SEDC added the development of corporate office parks to its goals in order to retain college-educated natives. The new initiative got a strong start beginning with Clifton Corporate Park that summer, while in autumn State Farm announced its plan to build a regional service center in Malta, bringing 500 jobs to the county. And there was a changing of the guard: Randol left to start his own consulting firm and was succeeded by Ken Green, who had joined SEDC in 1981 to direct the increasingly essential research and marketing initiatives.
Two decades of successes were followed in the late 1990s by a big push to develop high tech industry. The target location was the tract in Malta that had been in negotiation back in 1985. The state turned over the land in 1997 and SEDC filed a Planned Development District (PDD) application with the Malta and Stillwater towns.
The PDD was approved in 2004, and SEDC purchased 1,186 additional acres surrounding the original tract. At the suggestion of state Senator Joseph Bruno, who had been influential in setting up the land transfer, SEDC spun off an independent agency, the Luther Forest Technology Campus Economic Development Corpration, with its own board.
In June 2006, Advanced Micro Devices, Inc. (AMD) announced it would build a $3.2 billion microchip fabricating plant there. It would be the most advanced semiconductor manufacturing facility in the world, and the largest private sector industrial investment in New York State history. AMD spun off its manufacturing, forming the new division named GlobalFoundries early in 2009, soon after the start of construction. Manufacturing began in 2012, and the payroll quickly grew to 3,000 employees.
Meanwhile, there was another leadership transition when Green left in 2007 and was succeeded by Dennis Brobston. This remarkable continuity, with only three presidents in 40 years, has been part of the SEDC success story.
At 40, SEDC looked back with satisfaction on an impressive record. It has brought 21,000 jobs to the county, with $16.5 billion invested. Well over 100 firms have come to Saratoga as a result, and over 150 existing firms have been provided the assistance they needed to remain profitable without relocating. It has had a pivotal role in the arrival of such now-iconic Saratoga County businesses as Ball Metal, Quad/ Graphics, State Farm, ACE Hardware, Target Distribution, Cascade Tissue and, of course, GlobalFoundries.
But most of its work has been less glamorous, yet equally important to the county's economic well-being: the daily efforts to assist small start-up and existing companies and to expand employment.
It brought together private business and government—successfully. Without the innovative model of SEDC, Saratoga County's economy in 2019 would far less healthy and dynamic.